The Benefits of Wheat Grass as a Food or Supplement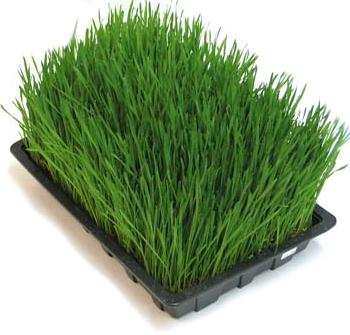 The benefits of wheat grass as a food or supplement that can provide the benefit over all health of the body are without debate when put to the test. The largest deterrent of wheat grass becoming a main stream product and staple food source is that negative affects that it will have on the medical and health industry. Healthy people do not need doctors. People without chronic disease do not need doctors. People that are not fat, do not need diet plans, support groups or medical intervention.
Some of the findings that have been written about and documented include many unexplained natural healing qualities. Science is still trying to determine the nature and individual benefits of phytonutrients that are a part of grasses used in various health cereals. And while there is no medical research yet to prove any benefits of wheat grass (why does that not surprise me) the proven results of its use speak much louder.
It IS known that cereal grasses contain large amounts of chlorophyll (the "blood" of plants), which is amazingly similar to hemoglobin, the molecule that carries oxygen in the blood, so, in some researchers and holistic health professional's thinking, using wheat grass on a regular basis in larger doses is in someway giving your body a 'blood' transfusion of sorts.
NO, I am not saying that you can inject wheat grass into your viens or that you should even try it. That is NOT how the nutrients and benefits are assimilated in the body. It must be digested. I am saying however that chlorophyll is soluble in fat particles. This means that since fat particles are absorbed directly in to the blood via the lymphatic system, that chlorophyll can also be absorbed easily in this way. In other words, the "blood" of plants is easily absorbed into human blood. This means that the nutrients of wheat grass and their benefits are transported efficiently to every cell of the body.
In today's hectic, fast and processed food, cup of coffee driven, sugar laden diets that come as a result of work schedules and the busy-ness of life, the average individual unintentionally drives their blood pH lower and lower through unhealthy diet. This causes a highly acidic blood which affects our bodies on a cellular level. Acidity feeds cancers, cysts, tumors and other cellular malfunctions or disease. The goal of everyone that wants to live a long and healthy life, and NOT become victim to most of the diseases that plague our society is to lower their pH, thus alkalizing their blood and body chemistry.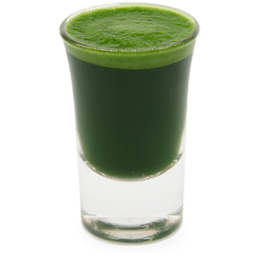 Some of the underlying benefits of wheat grass are that it is one of nature's most powerful sources of green leafy vegetable nutrition. It contains an enormous amount of chlorophyll; and, chlorophyll is essential to a healthy diet that can reduce chronic disease and increase over all health. Here are some of the benefits to wheat grass that are worth considering if you are seeking to increase your health and reduce the affects of body acidity – the main contributor to cancer and vital organ failure.
Wheat grass provides and excellent source of beta carotene, folic acid and vitamin C.
Wheat grass is high in chlorophyll and as such high in oxygen which repairs the body on a cellular level.
Wheat grass is high in antioxidants which slow the aging process.
Wheat grass is a whole food that is loaded with live enzymes and all essential amino acids
Wheat grass is an excellent source of natural energy. Unlike coffee which acidifies the body and just stimulates for a short period, wheat grass feeds the cells of our body and oxygenates them thus giving our bodies a greater alertness and energy level.
Wheat grass raises your pH level which chokes out cancer and increases healing of damaged cells.
Wheat grass detoxifies the liver, colon, and stomach.
Wheat grass strengthens the immune system aiding in the prevention of infection or chronic malady.
Wheat grass provides fiber to promote digestive tract health and bowel regularity.
Wheat grass is a raw food substance and can be grown by anyone or anywhere indoors or outdoors – assuming you can remember to water it and see that it has sufficient light.
Wheat grass neutralizes acid production in the body so that the body can recover more quickly when it gets sick.
Wheat grass increases metabolism and reduces food cravings thus helping in accelerated weight loss.
Wheat grass can be purchased in concentrate powdered form at most whole food and health food stores. It is best when raw, vegan, organic and cold processed.
If you found this article interesting and know someone who wants to recover from or prevent illness in their body through whole foods and nutrition, please refer them to this article. As always, I would appreciate it if you would hit the FaceBook like button below and whichever favorite social media network you belong to and post a summary of this article to your profile for your friends to see. Thanks!
The Benefits of Wheat Grass as a Food or Supplement

,