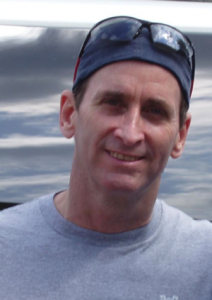 About David Ward
I was always considered to be a very healthy and active individual by everyone that knew me. My lifestyle was one that did not include alcohol, smoking, drugs, or fast food. I was athletic with very little fat – 225 pounds, 46 inch chest, and 33 inch waist. I was careful to watch what I put in my body in the way of food and drink, especially avoiding anything with preservatives in them. I didn't eat junk food. I limited my sugar intake. I never drank carbonated beverages or sweet fruit drinks of any kind. I was a steak and potatoes and vegetable loving kind of guy.
As healthy as I thought I would, little did I know that I was dying on the inside. Thus started my journey on the road to recovery from chronic illness that offered little more than a death sentence on my life if I did not change things drastically in my diet. Vegan Overcome started out as a personal journal on my transition from a predominantly meat, potato, and dairy sort of diet to an all natural, all organic, all raw vegetarian diet. That was several years ago now. Today, now that I am free of chronic/terminal illness, my passion for health and longevity, and my love for teaching others about how they can have optimum health and enduring wellness is a part of my everyday life.
If you hang around me for long, you will inevitably end up with a green mustache and eat things you never thought you would.
The conviction of my belief that "we are what we eat" is rooted in my own story of recovery from a life-threatening illness that was the result of my heavy meat, potatoes, and acidic foods diet. My story is not unlike the tens of thousands of people who are living proof that changing your lifestyle from that of living to eat (feeding your appetites) to one of eating to live (feeding your body what it needs) can change your health and your outlook on life for the better.
If you are ready and willing to see your life forever changed through modifying your present lifestyle to wisdom in your food choices, you can experience a whole new outlook on life. It's not as difficult as you might think and you will see a substantial increase in your health, energy levels, and overall vitality as a result.
Want to see what being a vegetarian is all about and how to increase the green in your diet …and LOVE IT? Check out our Veggie Chronicles Newsletter. You will learn all sorts of things that you most likely did not know, and you will grow in you knowledge of healthy eating that includes education, facts, and recipes that are all designed to make you healthy and restore your youth!
About

,