Welcome to VeganOvercome.com. Your visit is not taken lightly. If you find my website worth a look around, you might also like to consider subscribing to the Veggie Chronicles Newsletter as well. It is a periodic e-Newsletter that will have lots of great information to inspire, encourage, help, instruct, and empower you to live a more healthy life through diet, among other good stuff. It's free and you can unsubscribe at anytime you want if you feel that it is not helping you.
Life as I knew it
I had never been an 'out of shape' sort of guy.  I had always been active, athletic, and an avid extreme sports adrenaline junkie.  I always ate whatever I wanted to eat and never gained weight, and but for a few times in my young life where I tried a vegetarian diet, I have always eaten meat in some form with almost every meal.  To listen to others who knew me, they would have said I looked great for my age, or even someone 20 years younger than I was.  Yes, life – especially my health – was blessed with good fortune.
Dying Inside
What I didn't know however was that even with all the activity in my life, my own personal gym with thousands of dollars in commercial grade weight machines and free weights, and eating what most would call an exceptionally healthy diet, I was dying on the inside.  I was suffering from acute chronic illness that was leading me happily to a sure end through a terminal illness – cancer.  I was just a few short years away from the end of my life and didn't even know it. Changing my diet saved my life.
I was just a few short years away from the end of my life and didn't even know it.  Changing my diet saved my life.
So here I am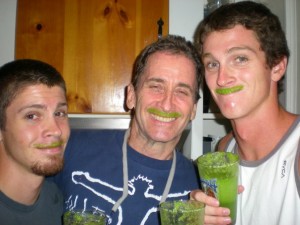 Hi! My name is David Ward and the picture to the right is of myself and two of my amazing boys hamming it up for a 'green mustache' photo opp. I started this website as more of an online journal to collect health information and do some writing about my transition from a heavy meat, dairy, processed foods, and sugar diet to an almost completely raw vegetable, fruit, nut, and grain diet – enough so to classify me as a raw vegan.
To the shock and horror of many of my friends and family, I began consuming the weirdest things – things like raw spinach smoothies, fresh wheat grass juice, raw dark green vegetables, various roots and rhizomes, seed sprouts, dark colored fruits, nuts, off the wall spices, and drinking stuff like fermented Kombucha tea and Rejuvelac. Admittedly, I was not invited to many dinner parties once the word got out of my extremist diet.
What you won't see me do
Don't be scared away by my use of the word "vegan" in my website's name. VeganOvercome is really more just a play on words based on a personal experience I had in my refrigerator shortly after I changed my lifestyle from an omnivore to a predominately raw vegetarian. I am NOT some socially radical lunatic that won't wear leather or who believes that eating meat is a human rights violation. You won't see me trying to block a commercial whaling ship in a canoe, because I think it's mean to fish for whales. You won't find me picketing some politician's house because he is not willing to vote on a bill to give household pets legal rights or to prevent someone from building a house on their land because it has a family of field mice or turtles. Don't get me wrong. I LOVE animals, especially cats and dogs.  I just can't eat a whole one by myself. …Juuuust kidding!… Seriously, anyone that knows me personally would say that I am an all around pretty average guy (with an above average sense of humor. So about the website's name, I'll share more on how the name Vegan Overcome happened later.
The goal of this website
The goal of Vegan Overcome's website is to educate and instruct those who desire to live a more healthy and energy-filled life.  There are a lot of interesting and educational articles that provide vital information that can dramatically affect your health.  There are recipes, juice drinks, meal plans, and offerings for products and services that either I provide personally or that I endorse and sell as a way to support my addiction to helping others be successful in their health. I never turn anyone away from help, instruction, and encouragement in their eating lifestyle, but I do offer very economically priced structured coaching programs which offer more in depth mentoring/tutoring for those who are ready to take their health and longevity seriously enough to move to a new level of lifestyle as a vegetarian.
My appeal
If you find an article or tidbit of knowledge that you really like or that has been helpful to you, leave a comment and let me know what you think.  If you find the Vegan Overcome website beneficial, please take a moment to share on your favorite social network(s), with those you care about or those who are struggling with chronic illness or obesity. If they want to make a change in their life for the better as it concerns their diet and lifestyle. I think I may be able to help them. What better gift to offer someone than a healthier life, right?
For your lasting health in every way,
David Ward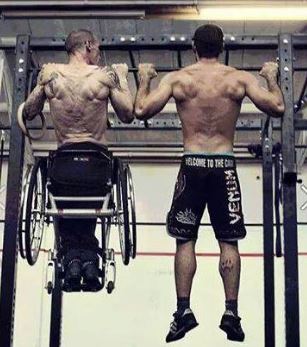 Each year about this time I do an assessment of my health and fitness, and ask myself if I am remaining true to my core values to remain healthy, live actively, and keep myself focused on the living my life with purpose. The start to this new year has been no...
read more
Welcome

,